Description
Put the finishing touch on your space with a Kinger Home 32" Carli Mirror in Gold. Made with an aluminum metal, it features a trendy brushed matte finish for a subtle statement that makes a big impact. You won't sacrifice space for style with a slim 1.5" frame and flush wall mount. Pre-installed butterfly clips and included hardware make installation a breeze! The high clarity surface provides ultra-sharp reflections and helps to bounce light into and expand any room. This mirror's modern simplicity makes it the perfect addition to virtually any space. Looking for a new vanity mirror? With a waterproof frame, this gold round mirror is even safe for bathrooms. Pro tip: combine with our matching Kinger Home Gold Towel Rings to give your bathroom a major budget-friendly upgrade! 
Dimensions: 32" L x 32" W x 1.5" D | 15LBs
Hardware included
Easy installation
Free US shipping
Limited 1 year warranty 
Payment & Security
Your payment information is processed securely. We do not store credit card details nor have access to your credit card information.
Find the perfect size for your space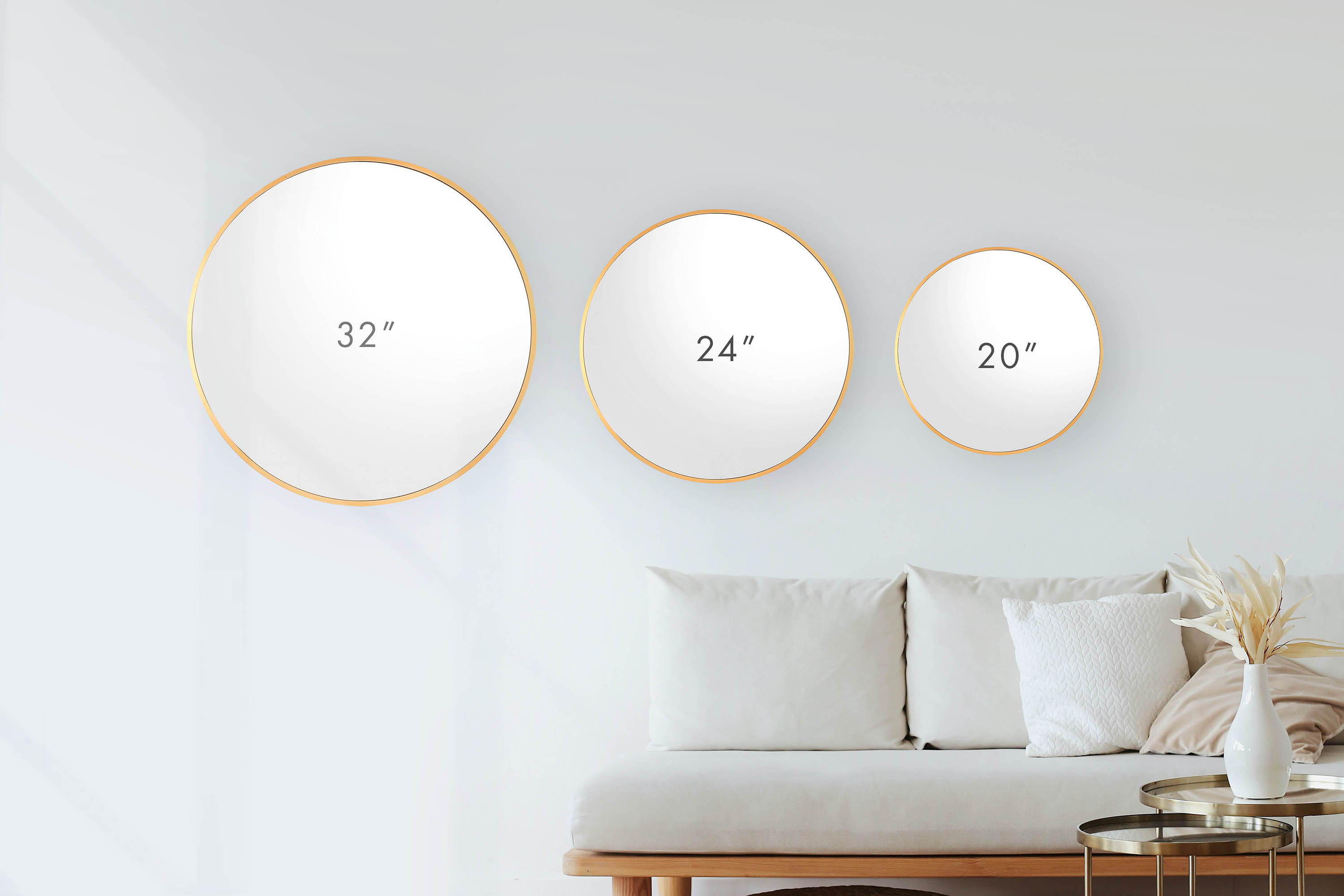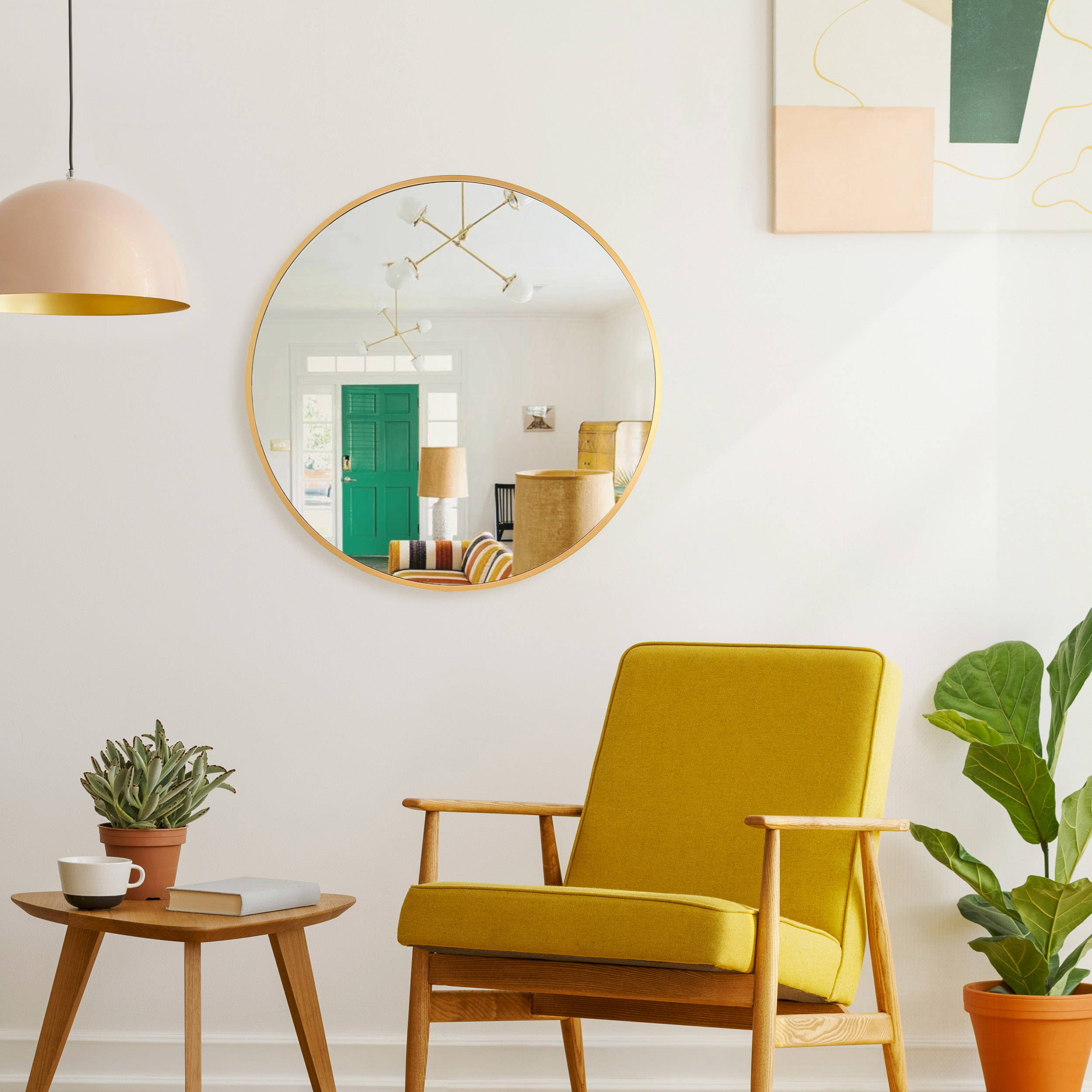 Round mirrors for wall décor are the perfect accents to any living room. The sleek gold frame will be sure to make a subtle statement while remaining neutral in tone. Hang this circular mirror across from a window or colored door for a larger, brighter feel! Combine with matching gold accents for a chic look, or use as the finishing touch in your eclectic mid-century modern living room.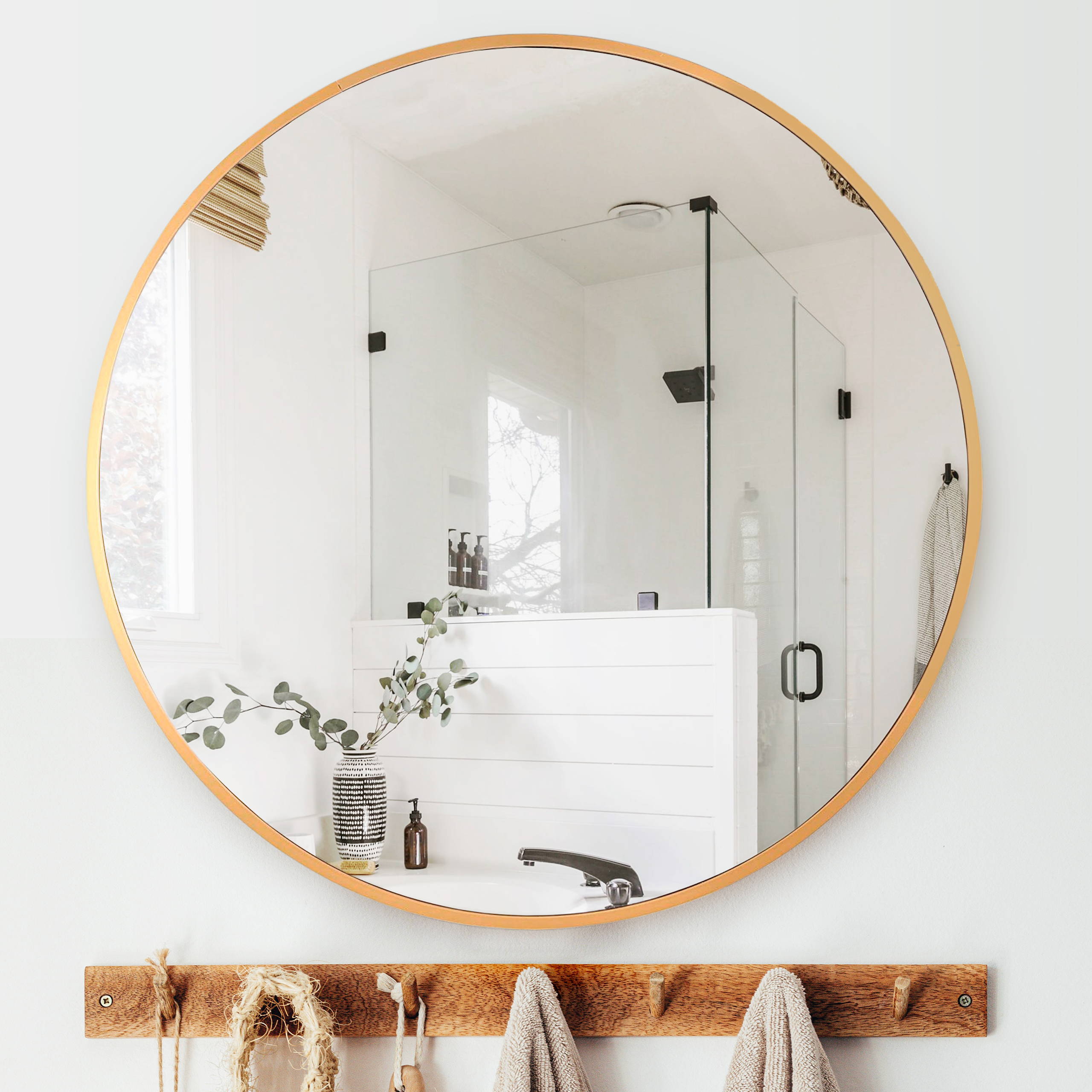 Boring, dated bathroom? A modern mirror is sure to transform any space! Scrap your builder-grade wall mirror and replace it with a large round mirror for a high-end upgrade without the high-end cost. Combine with matching Kinger Home towel rings for a cohesive finish.Have a small bathroom? You can also add a smaller mirror above your towel rack to make your space feel larger and brighter.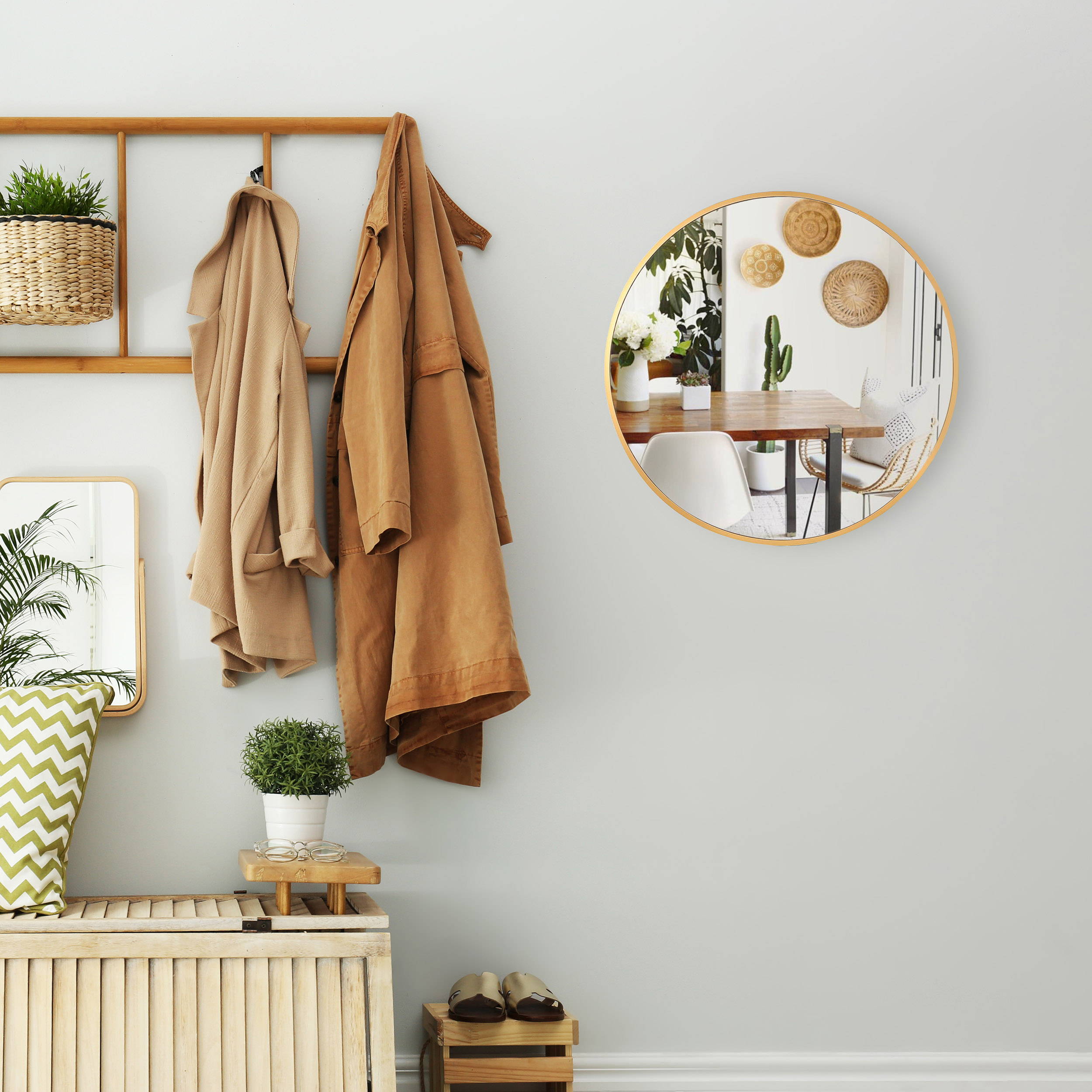 Kitchen or entryway feeling flat? Flood your rooms with some extra light using a small wall mirror to help your space feel brighter and cozier. Hang your gold mirror above a thin entryway table or next to your coatrack for a fresh finish. Pro tip: pair with some greenery to really make your space pop! Besides, who doesn't love plants? If you're not a green thumb, faux works too.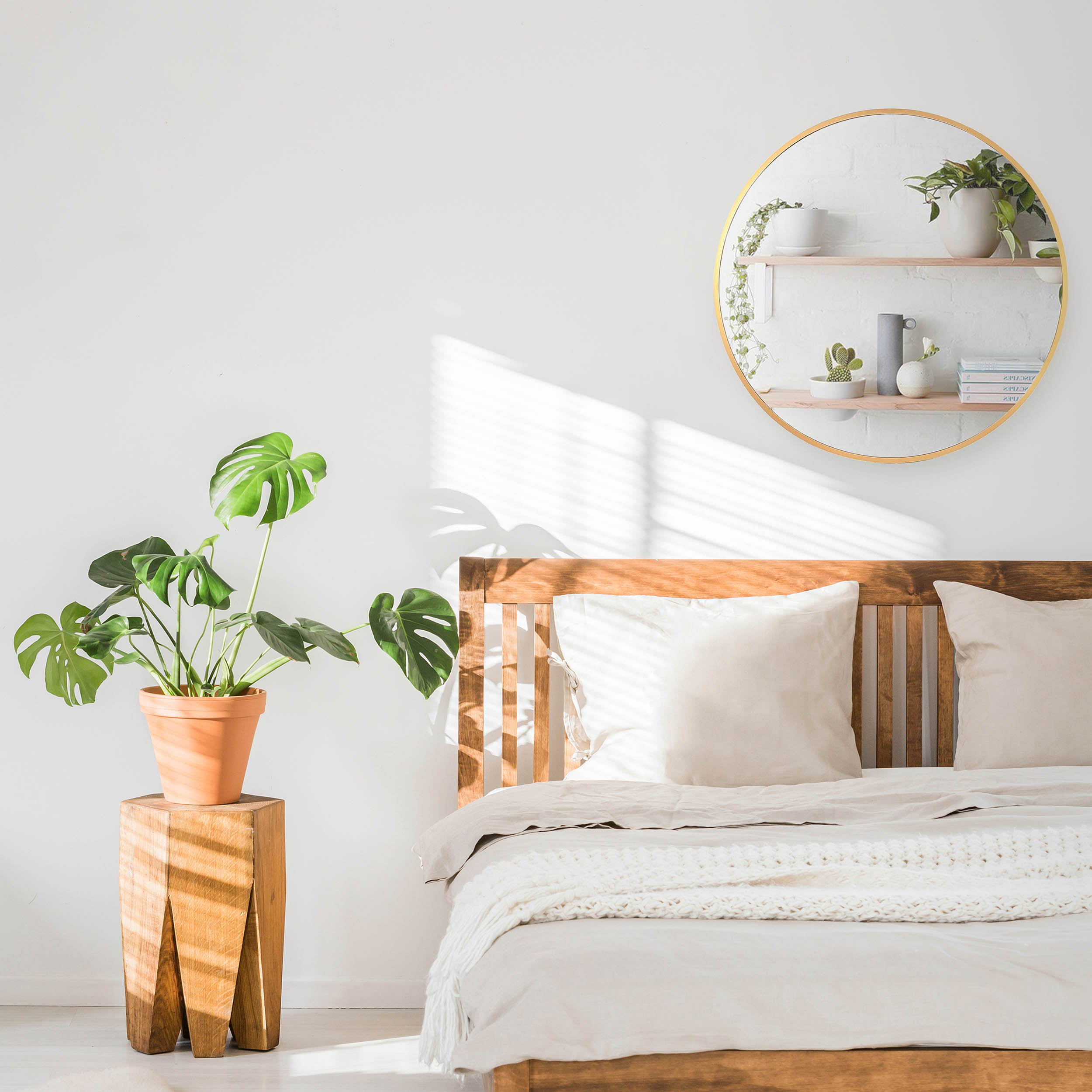 Don't want clutter but hate that empty space on your bedroom wall? Hang a round gold mirror above your headboard for the ultimate minimalist, Scandinavian-inspired getaway. The soft matte gold finish combines nicely with natural, textured elements for a more dynamic space.Add some house plants for a trendy, 'Gram ready corner.
The edges are flat, not beveled.
Does the mirror sit flush on the wall?
Yes! All Kinger Home Round Mirrors sit flush against the wall to give you a sleek, modern look while also saving space.
What material is the frame?
The frame is a brushed aluminum metal.
Is the surface smooth or textured?
The matte surface has a very subtle, brushed texture.
What screws are needed to hang the mirror?
All needed hanging materials are shipped with your item, including 2 screws and 2 anchors. The pre-installed butterfly clip allows for a quick and easy installation!
What happens if I receive a broken mirror?
All items are sent with a generous amount of packing material in order to ensure a safe delivery. If your item is damaged or broken upon arrival, please contact customer service and we will be happy to send a replacement item.
Great mirror
Very happy with the mirror. My only small complaint is that there are some tiny little scratches that I had to color in with a sharpie. At the top where the metal comes together it was a very small gap, however it's not very noticeable when on the wall. It really looks stunning in the bathroom and I feel like it's good quality.
Under construction have not had the chance to open it. Can't wait to see it